Joined

Mar 27, 2004
Location
Current state:
-B234 16v head
-n/a LH2.4 (571 ECU)
-n/a EZ-117K (011 w/ 16v n/a ignition map from sbabbs)
-16v white top injectors (749)
-3 bar FPR
-EZK ignition coil
-ipd "upgrade" in-tank fuel pump
-KL Racing underdrive crank pulley
-Bilstein HDs
-ipd sport springs
-ipd swaybars (25/23)
-full poly bushings in front
-poly bushings in <del>rear trailing arms</del> & panhard rod
-rubber axle bushings
-Kaplhenke Hybrid torque rods
-GT braces
-BNE Select strut mounts
-Yoshifab lower chassis braces
-T5 -169 transmission (3.35 1st & 0.68 5th)
-eBay short shifter (customized lever to mimic stock 240 shifter)
-Saab Viggen 228mm pressure plate
-Clutchnet SM9721 228mm SVO clutch disc
-hydro clutch setup (260 clutch master, 740T slave)
-15x6 Aries wheels
------------------------
Previously:
the "mod" list:
-LH2.2 Turbo ECU (541)
-EZK-117 ignition (012)
-"A" cam (so far a very daily driver friendly cam that pulls well to higher rpms)
<del>-Mitsubishi 13C</del>
-Mitsubishi 16T @ 13psi
-90+ exhaust manifold
-NPR intercooler
-940T downpipe connected to 240T exhaust system (60mm pipes)
<del>-850T orange-top injectors</del>
-831 "brown" injectors
<del>-"B" cam</del> ran fine, has one of the largest overlaps of the stock cams
<del>-"V" cam</del> for my setup and driving style, had too much of an "off/on" characteristic...however it does pull quite hard once it comes "on"
<del>-"T" cam</del> "instaspool" with a 13C, nice torquey powerband, but not high-rpm friendly
-AEM Dryflow air filter
-AEM wideband O2 sensor
-ebay catch can
<del>-19mm (stock) rear swaybar</del>
<del>-Kaplhenke spherical axle bushings</del>
<del>-Kaplhenke torque rods adapted w/ poly rod ends @ body attachment</del>
<del>-15A's strut mount plates</del>
<del>-SAM short shifter</del>
wish list:
<del>-T5 transmission swap</del> & LSD
-Gemini wheels
<del>-wideband O2 sensor</del>
<del>-S40/C30 seats</del> rebuilt 92 240 seats are quite nice
-------------------------------------------------------------------------------------------------------
First a little background: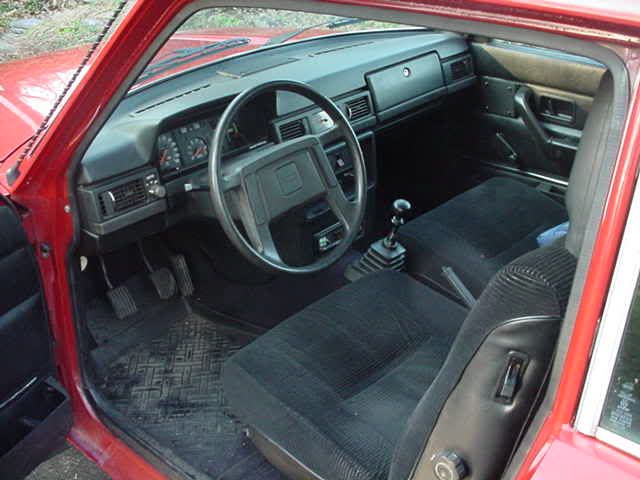 I first purchased this car with a poorly-running K-Jet system and in need of some general TLC when I was 15 years old. I learned and fixed what I could, but needed to enlist the services of a local Volvo shop to get the K-Jet system running strong again. I didn't really modify the car too much, but drove it daily through high school and college. Along the way it gained a set of ipd swaybars (of course) and Virgo wheels along with mundane maintenance items like rust repair, a new clutch and new heater blower motor.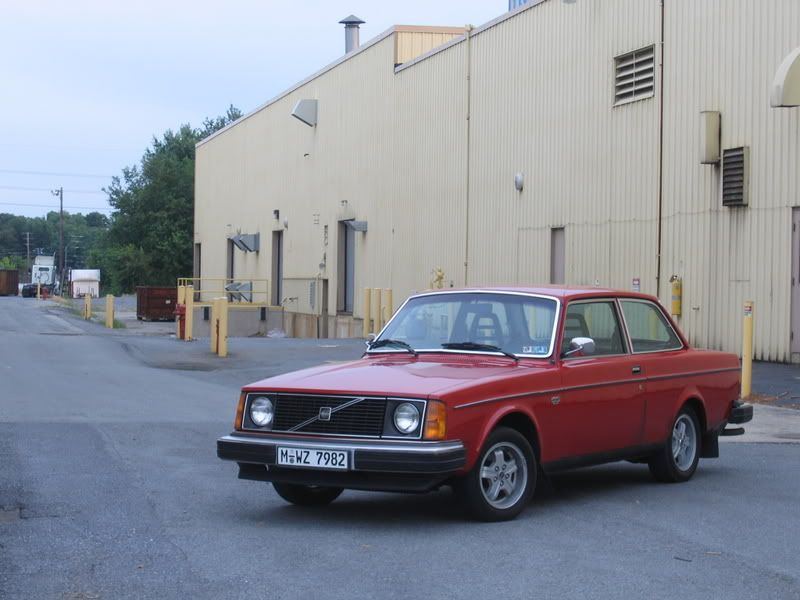 During my last year of college, the car developed a significant miss under load and I did not have the time, money or space to investigate and fix the problem (in retrospect, it needed a new fuel pump). Moreover, I needed a car to drive. I ended up putting the swaybars and wheels on my brother's 92 244 and selling the 242 to a fellow T-bricker and regretted the decision about a month later. Desiring something a bit more refined as a daily driver, I bought a 98 V70T5. While it was fun to have the 5-cyl turbo power, in my mind, it lacked the character of my old 242 and as the years went by and as I seemed to have an almost monthly visit under the hood of my V70, I began to lose interest in the car as I really disliked the fact that my daily driver was becoming a project car.
I had been casually surfing Craigslist for 240s for some time and one Saturday about 4 years after selling my 242, a listing popped up on Craigslist for a black 1979 242. Being so similar to my old car, it demanded a closer look. As I scrolled through the pictures in the ad, I realized that it was in fact my old car! There were a few unmistakable features such as the red paint in the door jambs, the sticker on the rear window and the "custom" door speakers that confirmed that this was indeed the car I had sold those years earlier. To make a long story short, the car was sitting back in my driveway in a matter of days and it felt good to be a 240 owner again. Ironically, soon after the 242 was in my possession, the V70 burnt a valve and with close to 200k miles it wasn't worth it to me to fix, so it was parted it out and I said good-riddance. I picked up a Mazda3 (heresy!) as my new daily driver so I can focus my efforts on the 240.
After looking over the 242, some things have improved since I previously owned it and some things have gotten worse. It now has a cat-less exhaust with a single muffler and runs much better than it had previously (maybe the cat was clogged?). While the exhaust sounds cool right now, it is annoying for just cruising or driving on the highway and looks poor (IMO). It also has a new main fuel pump and the miss is gone, yay! The springs have been heated and compressed (redneck lowering springs) and do not ride well and look terribly unsafe. The suspension needed refreshed when I first had it and it definitely needs it now.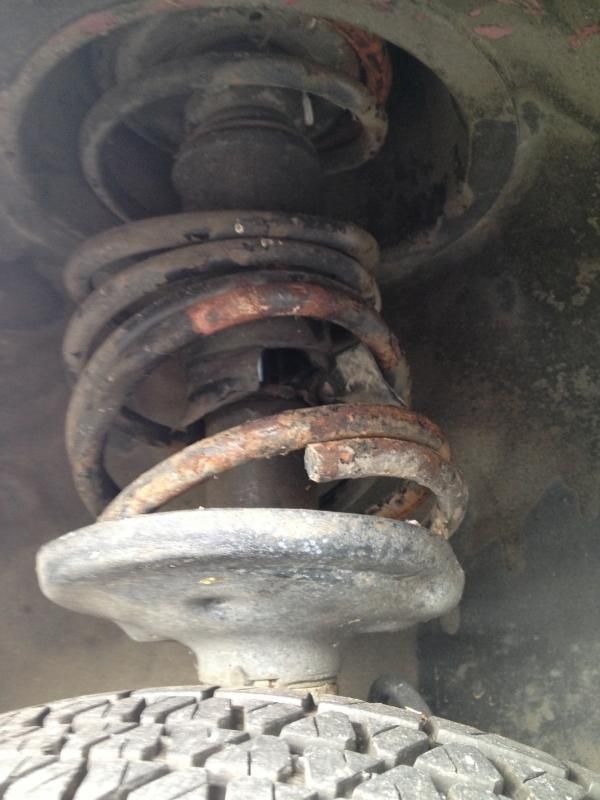 The windshield has been replaced with the newer trim which is nice. It still has the typical rust spots, although the major areas have been fiberglassed…but as expected, other rust spots are starting.
My biggest gripe is that it has been spray painted black.
The beltline trim was not masked off and is now black and I'm not sure if the chrome is recoverable. There is also random overspray on several windows and on the wheels which is annoying. The car has found a home in a barn, and I work on it when I have time (life is busy, ya know?).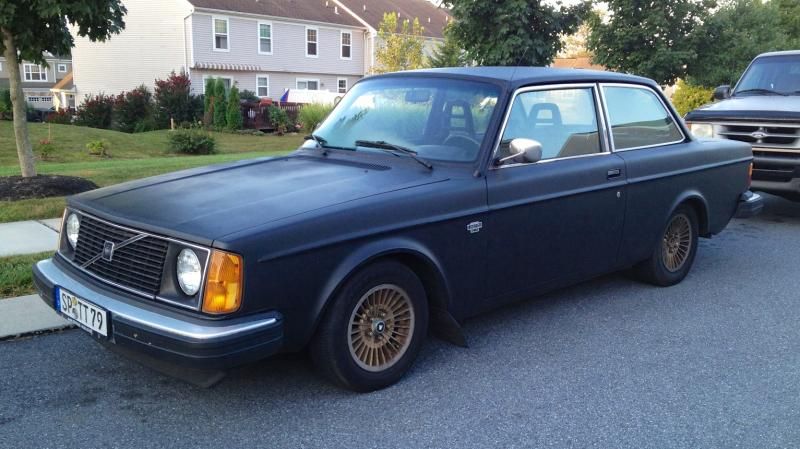 Now the fun part:
My initial plans for the car are to get it to the point where I could use it as a daily driver. Being that this is "Turbobricks" I would of course like to swap in a B230FT, but that's low on my priority list right now. The biggest change in the near future is updating the suspension as I have almost all the parts I need for that. I want to first get the chassis sorted out before adding power (insert driving slow car fast vs. fast car slow adage here). In no particular order, here are some of the items to fix (there are a lot of small unexciting things that need sorted out, but hey that's what projects are for, right?). Most importantly, I want to have fun with the car and enjoy it.
-Ensure fuel system is working properly (in-tank pump seems to be dead)
-Oil pressure light doesn't work
-Dave Barton fuel pump relay mod
-Replace leaking heater control valve
-Full poly bushings in front suspension
-sport springs
-Bilstein HD struts/shocks
-SS brake lines / bleed brake system
-Change exhaust setup to 240 Turbo piping & muffler
-Clean the carpet
-New sound deadening material to replace rotted foam/tar paper
Future fun:
-Repaint to original red color
-B230FT
-M46 or T5 transmission (currently has an M45)
-Different wheels
-Chassis bracing
-C30/S40/V50 front seats (inspired by Homer)
-RX7 brakes
The latest work I have done was removing the front carpet for cleaning and discarding the foam padding. The driver's side was wet with coolant that has been leaking from the heater control valve. I am planning to follow what Stiggy Pop did in his car regarding new insulation/sound deadening:
http://forums.turbobricks.com/showthread.php?t=290558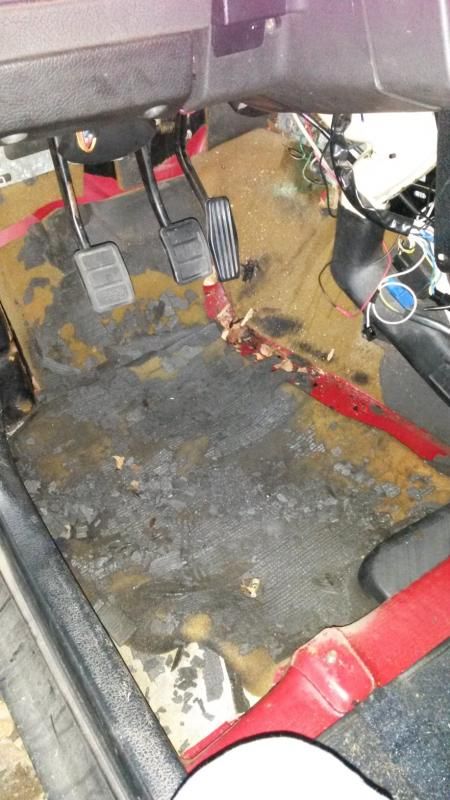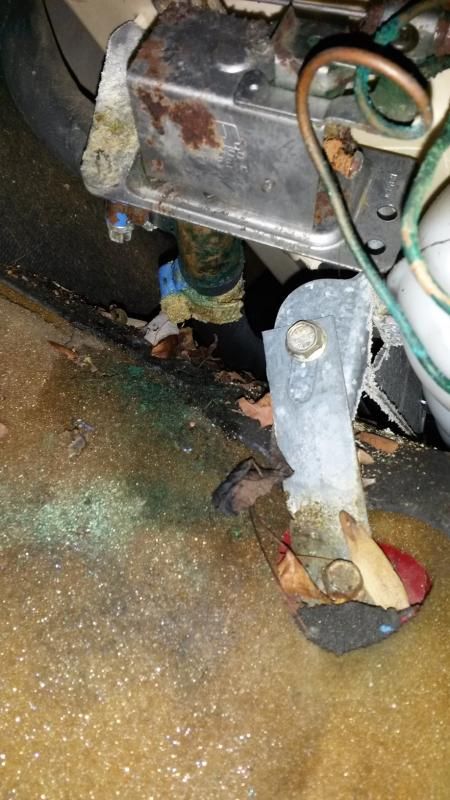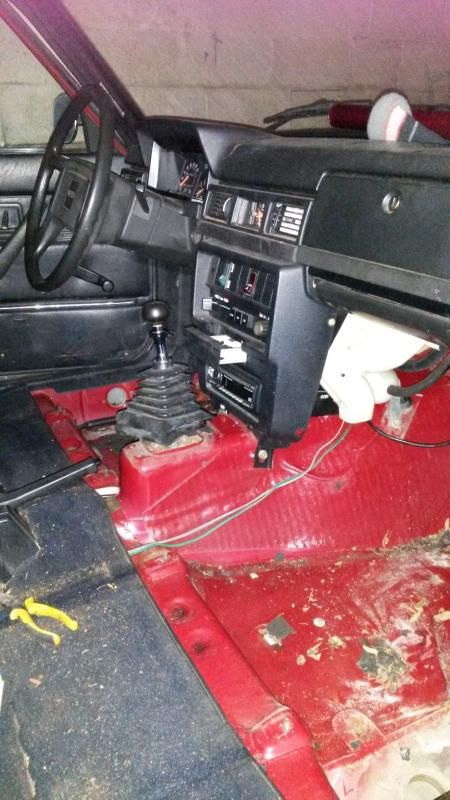 Last edited: