Joined

Apr 27, 2003
Location
A Coilover suspension with decent dampers is an excellent addition to any Volvo 240. This guide will teach you to put together a serious suspension on a shoestring budget, in the true spirit of TurboBricks.
-Estimated cost:
~$300 without a strut upgrade (the ultra-broke ass budget option), add $240 for Boge Turbo Gas (the ghetto alternative, from fcpgroton.com), add $379 for Bilsteins from shox.com (A better approach), add $537.60 for Konis from shox.com (RMO (Rich Man's Option)). If your vehicle doesn't already have upgraded swaybars, it would be a good idea to upgrade them while it is apart, using either IPD Safety Swaybars or Dual Sways if you're on the Turbobricks budget (
http://forums.turbobricks.com/showthread.php?t=9587)
.
-Materials:
2x 7" Coil Over Kit (2.08" ID)
http://www.colemanracing.com/catalog/product_info.php?products_id=1528
2x 2.5"x10" Coil Springs in the rate of your choice (in my case 275lb Suspension Spring Specialists springs)
http://www.colemanracing.com/catalog/product_info.php?products_id=4097
2x 5"x11" Coil Springs in the rate of your choice (in my case 250lb Hypercoils springs)
http://www.colemanracing.com/catalog/product_info.php?products_id=6207
4x Shocks/Struts of your choice (in my case Bilstein HD's from shox.com)
2x Volvo 240 Upper Rear Spring perches ($4 each from the local Pick-n-Pull, save the bolts)
-It should be noted that a little welding and grinding and drilling may be required; If you were a VolvoSpeeder you might pay someone to do the work necessary for this project, but that is not the turbobricks way. The only tool necessary other than Sockets and Spanners is an angle grinder (a $20 Harbor freight unit will suffice), and a welder (a local welder/exhaust shop is a cheaper approach).
-We begin by removing the strut assembly from the vehicle.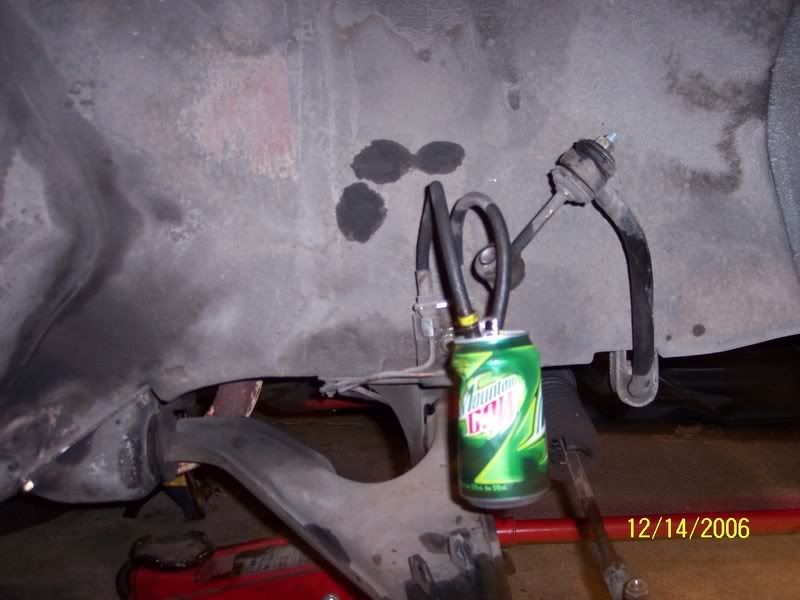 -Remove the brake caliper and disk, the coil spring and strut mount (you can borrow a spring compressor from the local autozone or torch the spring until it relaxes), and the strut insert. At this point you should have this in front of you: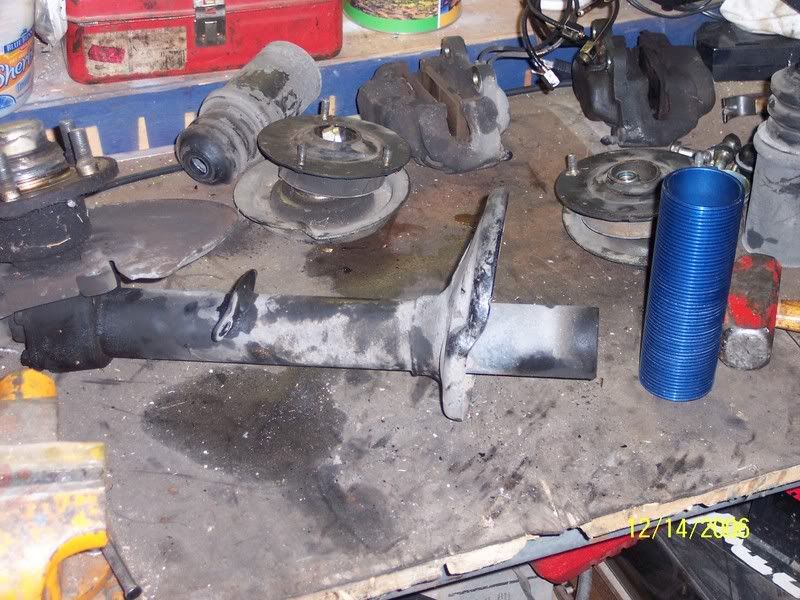 -Using your angle grinder, carefully grind out the welds on the factory spring perches, apply BFH if necessary, leaving you with this: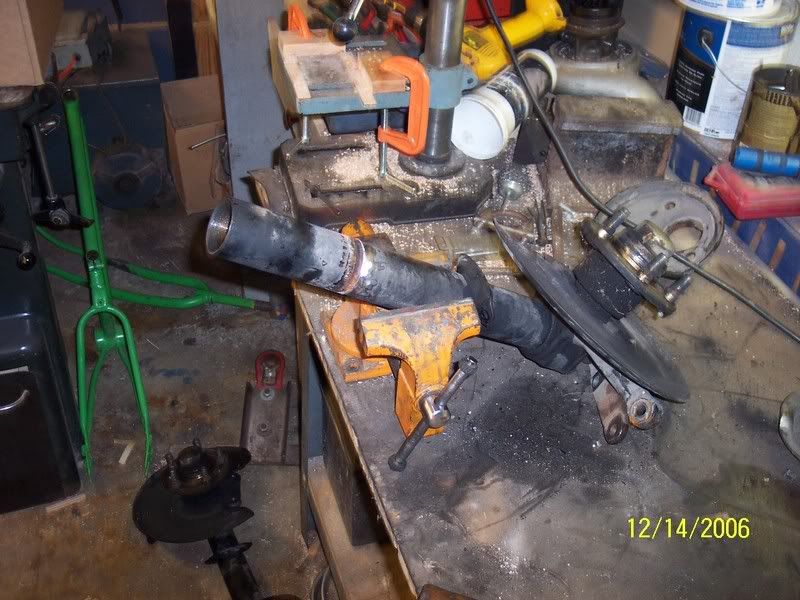 -At this point you can either have the strut tubes milled down a few hundreths (RMO), or use your Angle grinder to shave the strut tube down enough to allow the threaded sleeves to fit over them (The TurboBricks way, and my choice; However, this job used up almost a whole brand new grinding wheel.). Leaving you with this: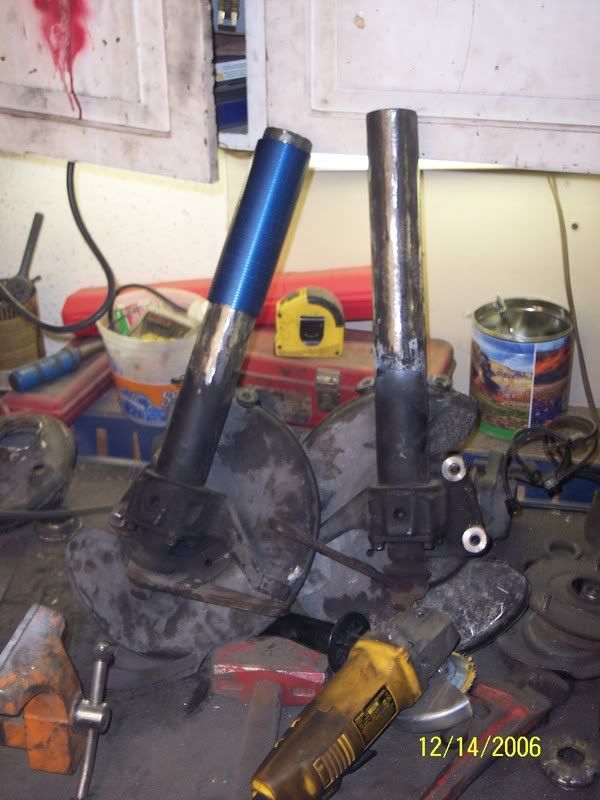 -Now you can either weld on stop rings or have a shop do it for you (I had my little brother do it in his Welding class).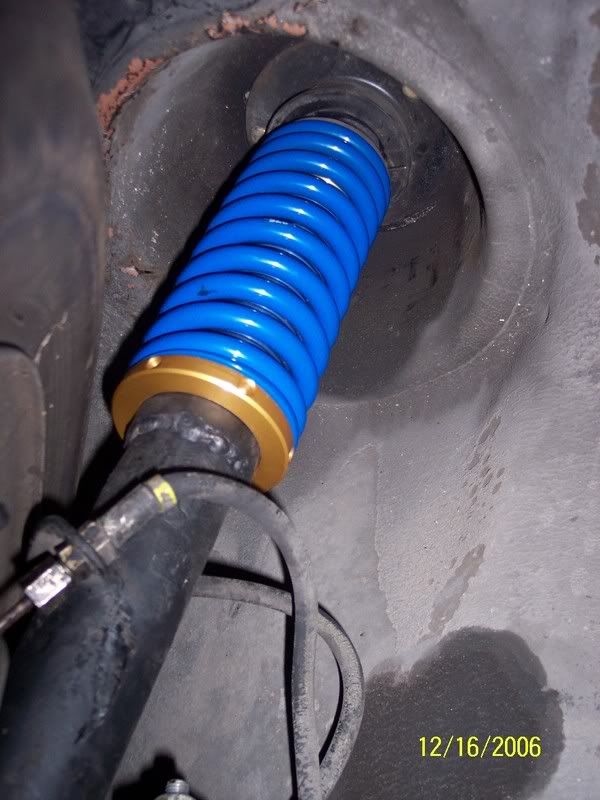 -Next, drill out the holes in the upper spring seat to fit the slightly larger volvo strut.
-Reassemble strut as shown:
(more, better photos coming soon)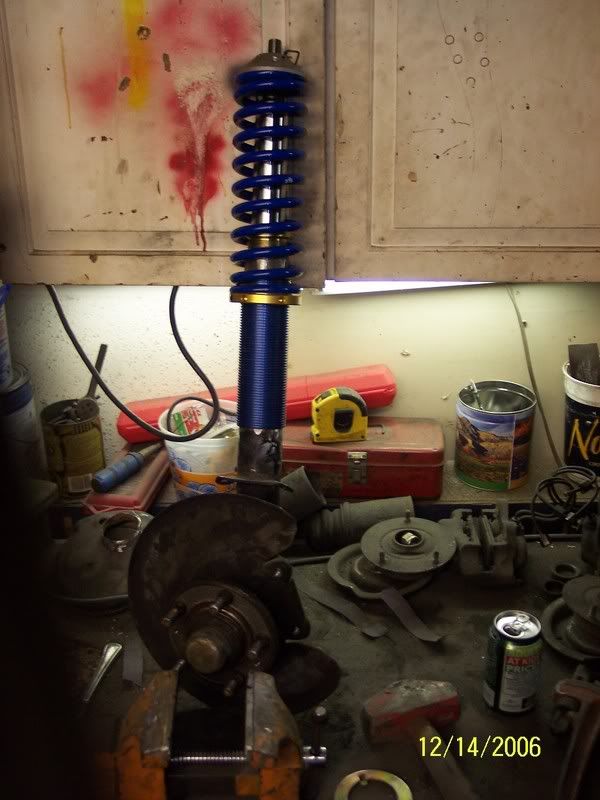 -Reinstall front strut assemblies.
(photos coming soon)
-Moving on to the rear, jack up the car using jackstands on the jacking points, remove wheels, and then lift from the pumpkin again until the tension comes off of the lower shock bolt, then remove it. Release jack and allow rear suspension to droop. Unbolt stock springs, keep the nuts. Now, remember those bolts that you saved at the junkyard? Using them and the nuts you just removed, bolt the stock 240 upper spring perches where the spring retainers were previously located. Insert your new shiny springs, lift up rear end and replace lower shock bolts, reinstall wheels, take the car off the stands and thats that.
Upper Spring Seat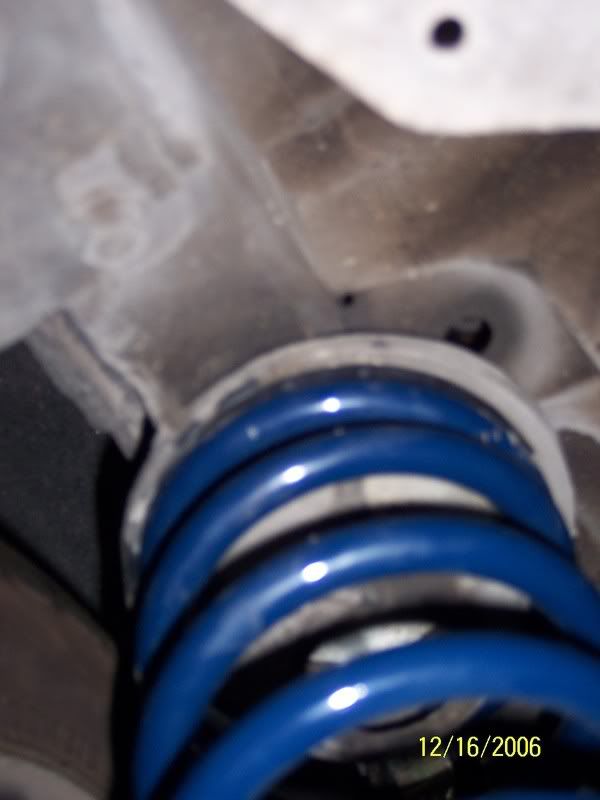 Lower Spring Seat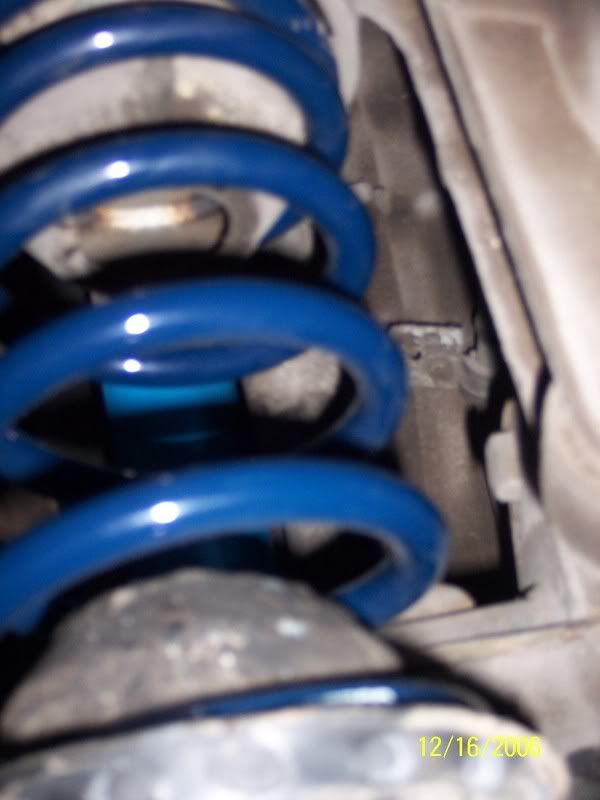 Well, that should be a pretty good guide to coilover suspension on a budget, and I will be adding more photos soon. If you have any edits/suggestions, just post that schizzz below
-<3 kyote
Last edited: