Joined

May 17, 2007
Location
I have finally got round to sorthing the brakes out on my 94 940. The standard brakes were OK but there have been a few times when things got a bit exciting.
I actually fitted the big 302mm discs first but if you can get the parts fitting the later brake servo, pedal and pedal box first makes a big improvement over standard parts.
Looking at the part numbers there are 4 different brake pedals for a 940. You get the auto and manual versions but the number changes for cars built during 1995. A bit more comparing numbers showed that the servo number changes along with the pedal box at the same time as the pedal.
All of the other parts including the calipers and master cylinder are the same.
As part of the final update on the 940 Volvo must have decided to make the brakes feel a bit better, possibly to bring them more in line with the new 850. The servo ratio was changed from 1:4 to 1:5.2 to make the brakes lighter to use and the pedal and pedal box changed to cut down the extra travel allowed by the new servo. Along with these mods the pedal lost it's return spring and gained a new type of brake light switch.
I've driven a car with the later servo and pedal etc and it was comparing this to mine that made me realise my brakes were horrible !
Anyone wanting to make their brakes better on a pre 95 car really need to do this first. If you then find you get problems with fade, then fit the bigger discs.
If you are looking for the later servo they are made by Bosch and are painted black. Earlier Bendix servo's were plated.
The pedals can be identified in a few ways. They don't have return springs and they are cut off at an angle at the top to clear the bulkhead. They also have the later switch.
You will need,
Servo
Pedal
Pedal Box
Brake light switch
Brake light switch to connector harness.
More info Here.
http://www.volvoforums.org.uk/showthread.php?t=156582
http://www.volvoforums.org.uk/showthread.php?t=156503
302mm Disc Upgrade.
Now that I have fitted the larger brakes onto my car and it?s all working I thought it would be useful to list all the separate parts and give details of those that were modified.
The standard front discs fitted to later 940?s with Girling calipers are 280mm and by using parts from later models you can fit 302mm discs, matching ATE calipers and have a better range of brake pads to choose from.
These parts were fitted to some Phase 1 V70?s, C70?s, and are often used to upgrade 850?s, the only disadvantage is that you need 16? wheels or larger to clear the brake calipers. Some have found that certain genuine 16? Volvo alloys can hit the calipers so you need to check the ones you plan on using clear OK.
While this a fairly straightforward job you will need to make some modifications to the brake caliper carriers, fit some spacer washers where they mount on the front struts and use longer mounting bolts.
Parts List.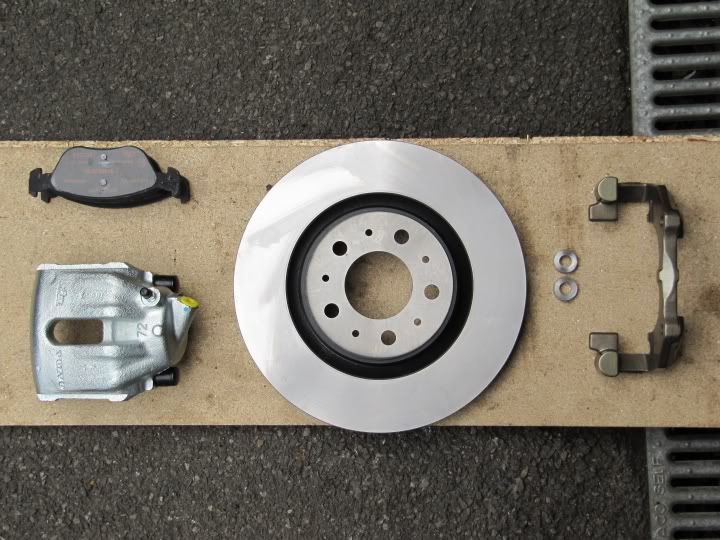 Brake Discs.
For these you need 302mm diameter discs. I went for genuine Volvo ones part number 31262095.
Brake Caliper Carriers.
There are 2 Volvo part numbers for these. Until you see both the only obvious difference is the price !
When you open the boxes it?s obvious one is plated and the other has a paint finish. I am pretty sure the plated one is a brand new item and the cheaper painted one is refurbished.
Another thing to watch is that my painted one had difference in the casting despite having the same part and casting number. Others have thought in the past that this difference in the castings was why the price and part numbers are different but I don?t think that?s correct.
Volvo part numbers for these are,
8251319 for the cheaper painted version.
8602456 for the more expensive plated ones.
To fit the carriers you need to provide clearance for the ABS sensor ring on the back of the hub. It?s easier to show what is needed with a few pictures. After filing I painted the bare bits so it would look nice for 5 minutes at least.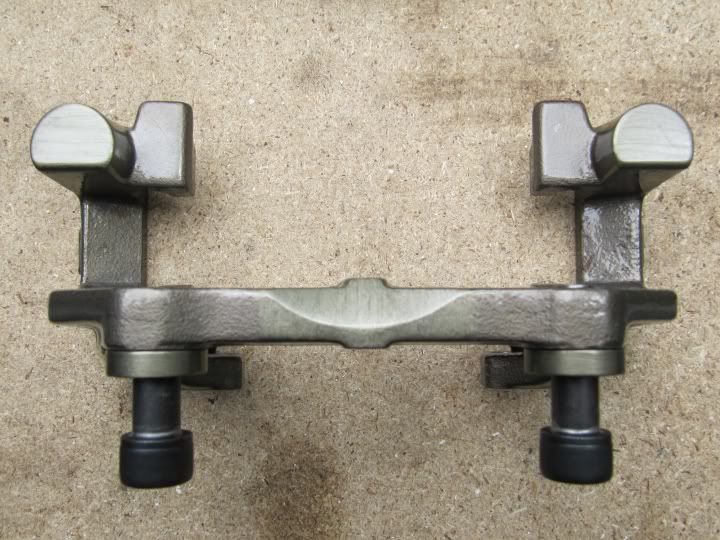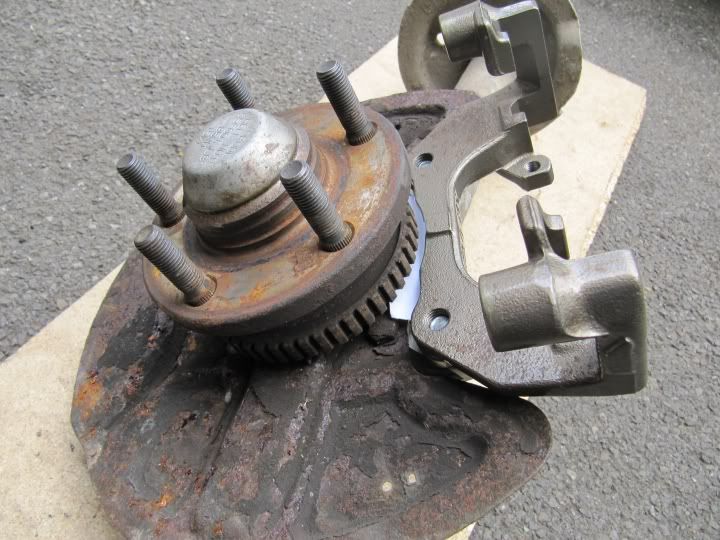 Spacer Washers.
You will need a total of 4 spacer washers to allow for differences in the brake disc dimensions. I made mine from 25mm diameter steel bar with a thickness of 6.3mm. The thickness isn?t super critical so going slightly bigger, ? ? or 6.5mm would be OK. When you fit the carrier over the disc you will see the carriers are a bit rough being just castings.
Carrier Mounting Bolts.
Due to the spacer washers the carrier mounting bolts need to be slightly longer. I bought some new M12x 35mm socket cap bolts.
Brake Calipers.
Volvo calipers are over ?100 each so I went for reconditioned exchange Delphi ones. If you ask for Volvo 850 ones it?s easy as they are all the same.
Delphi part number LC4657 and LC4658
Caliper Slider Pins.
These don?t come with the callipers unfortunately and the factors I asked don?t sell them. Volvo ones are quite expensive at around ?10 each. You can get them for about ?4 each from Big Red which is quite a lot better. I found that because they are a fairly standard part made for ATE brakes they are fitted to other cars. Probably the most common use of ATE brakes is on Vauxhalls and checking part numbers found a lot of Cavaliers used them. I ended up using good used ones as a friend had some spare so if you have time and want to save a few quid a hunt round a breakers might be worthwhile. I don't know if this is any help to those in the US as I don't know if you have anything that uses the same brake parts other than other Volvos.
Volvo part number for these is 30648017
The ATE number is 11.8171-0008.1
Brake Hoses.
I re-used my original hoses along with the stainless steel extensions that fit between them and the callipers. If you feel the hoses look stretched you can use some slightly longer hoses, listed for Phase 1 V70?s with 16? wheels.
Here are the numbers for each.
3546813 335mm long and fitted as standard to 940?s.
9191400 355mm long.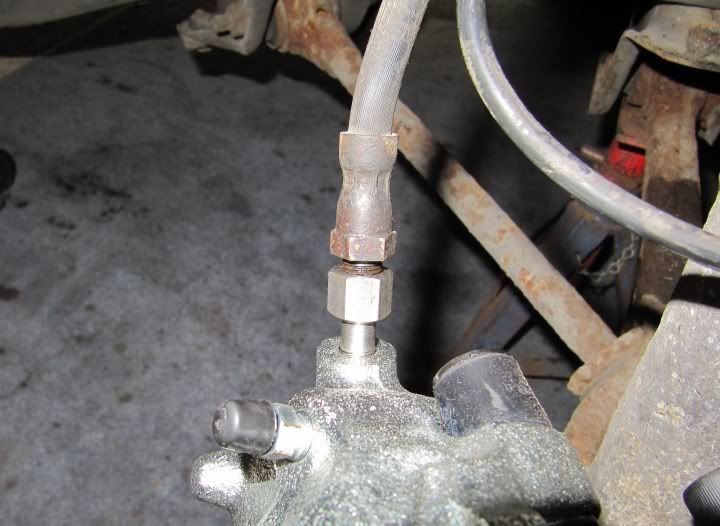 Brake Pads.
I decided to try the police spec ones that are available for 850?s and V70?s. This is really down to personal preference. Anything made for the 850 will fit along with those from V70?s and C70?s as long as they use the same callipers.
Part number for the police spec ones are 30645240 and are supposed to not have sensor wires. Mine came with them so I carefully cut them off.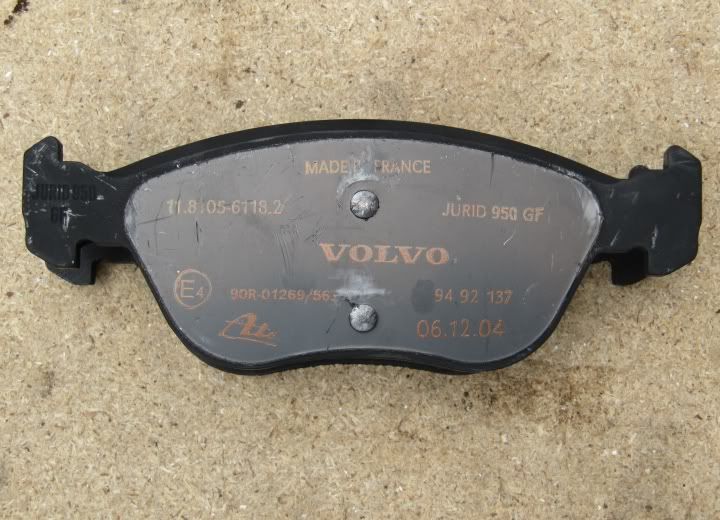 Here is a link to the original thread as a few people have asked questions.
http://www.volvoforums.org.uk/showthread.php?p=1200398#post1200398
I realise a lot of this has been done before but might help by being in one place.