Joined

Jun 17, 2011
Location
I had a pretty fun little 242 that I was using for my daily driver but I really wanted to paint it....and paint it proper. It was a great car. Suspension was dialed in and it had a bondo header and a 16g. Pulled really good, but I had something else in mind and this was not the car to do it to.
So, Pat and I went to look at a car for his cousin a month or so ago and it was really, really clean. All stock, the exterior was in reasonable shape but the interior was in really sad shape.
A carpet cleaning new seats and a dash swap and the interior was in much better shape. Good enough to drive to work and back at least.
b21f kjet na was an absolute joke. Not to mention it did not run very well it wsa so slow that my wife would not even drive it.
My plan was not to keep the little 4 banger in this car but i had not planned on yarding it out this quick. but this had to go....
So last weekend I decided that this ill running little motor needed to go.
Had this out by lunch last saturday.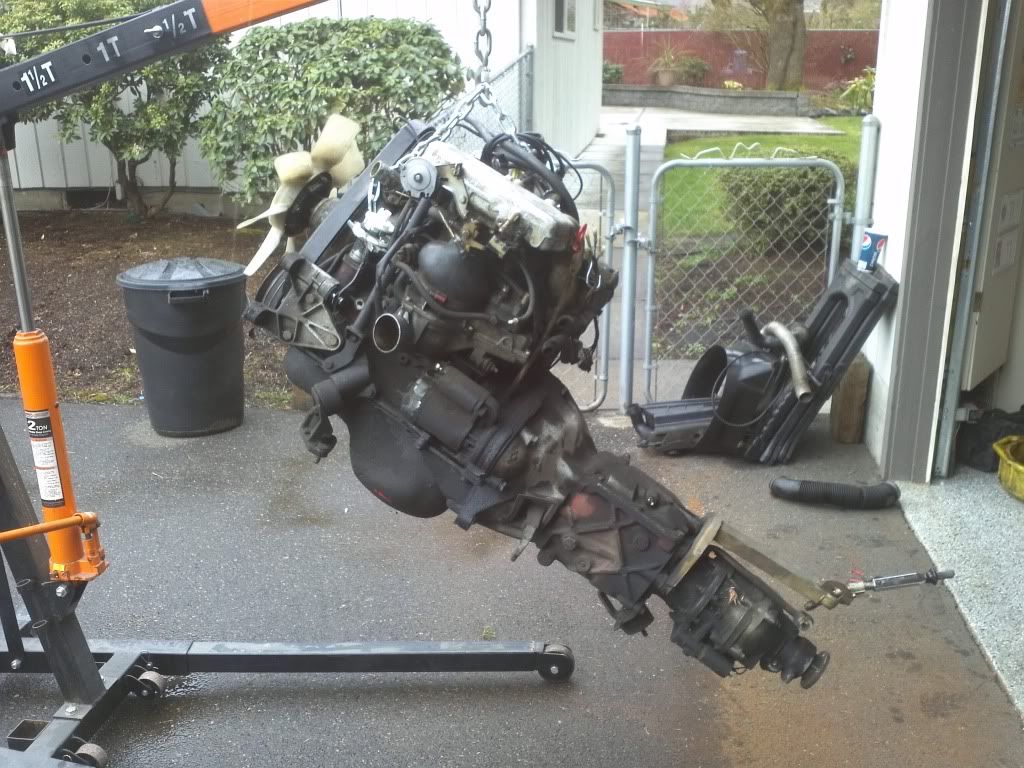 Spent the week rounding up some parts but mostly cleaning up the 30 some years of crap in the engine compartment. Pressure washed, cleaned and took out some more parts and pieces for refinishing. Also buffed and waxed the entire engine bay so that I had something descent to work with.
Forgot to snap a pic of the cleaned up bay though....sorry.
Well here is where it got a bit fun. A few weeks earlier the parts started coming together.
2001 5.3 LQ4 motor drive by cable throttle body.
2002 t56 from a camaro.....still waiting on the flywheel from the yard
ls6 intake manifold with ls1 steam ports bottom of intake clearanced to clear the steam lines
Mast Motorsports oil pan (should arrive on Monday)
Hooker Cast exhaust manifolds (ordered yesterday)
So this weekend I thought the oil pan was going to show up yesterday but no go.....I got the cut sheet from Mast and got to work. I pulled the oil pan and pickup toob this morning and swung this big old setup into place.
Its quite a long unit for the 240 chassis but I was pretty suprised just how well it fit in there.
It went in three or four times just today. I had a hand from a buddy while trimming the tranny tunnel for the reverse lockout solenoid to clear. I had to take a bit of sheetmetal out of the side of the tunnel, but it will be patched up and easily fit under the stock carpet.
At this point it is just setting in there on blocks at the right height....it came out lots more after this pic was taken but I just had to see what it was going to look like.
So we got it to sit where I wanted it to after some trimming Very little trimming though as I am trying to keep this as stock and uncut as I can.
WIth things sitting well I moved onto the motor mounts. Started with some plate and toob and built these.
Bolted them onto the motor and started to make some uprights. These are 1 3/4" .120 wall toobing as well as the mounts with the poly bushings. This is a common method of mounting stuff in my normal world of offroading. It is clean easy and cheap.
Last edited: