Joined

Aug 23, 2020
Location
For a while now i have researched most of the details of the TD04 turbo family, specifically those that are relevant to redblock usage. I hope this could function as an end all be all guide for TD04 related info.
Compressor type:
Let's start with the most common question, how many T's or G's do i need?
Generally you want to keep your turbocharger as small as reliably possible for your power goals, this will generally give you the most responsive setup. I'll give a rough estime of crank hp that the turbine will support maximum at PR = 2.0, estimated HP is crank. (output pressure = 2 times input pressure)
Tiny:
-13C: ~200HP
Small:
-13G: 360cfm ~ 240HP
-13T: 400cfm ~ 265HP
Medium:
-15G: 428cfm ~ 285HP
-16T: 435cfm ~ 290HP
Large:
-18T: 488cfm ~ 325HP
-19T: 500cfm ~ 333HP
Turbine output flange:
There are multiple types of TD04 turbine sizes. The stock turbo uses a TD04H 6cm2 turbine which is a medium sized TD04 turbine. Since the TD04 family is already quite small for our redblocks, it is adviced to directly go to the (relatively) large turbine family, the TD04HL turbines.
The TD04HL turbines comes with 3 different outlet flange types:
- The conical flange is the smaller outlet flange and fits directly onto the stock downpipe. It doesn't flow that well and spool is a bit slower compared to the other outlet flange types. It's nice as a drop-in replacement but don't expect to make big power efficiently with this type of outlet flange. A small or even a medium sized compressor would be a nice match.
- The flat flange is the medium sized outlet flange and mounts easily to the stock manifolds. The original downpipe will need to be converted to this flange type but that is an easy fix. Matches great with any compressor size and probably gives almost all attainable TD04 performance.
- The angled flange is the biggest outlet flange and needs a bit of extra work to fit the stock 90+ manifold. This flange is the best flowing of the three, but won't give that much of a gain compared to the flat flange, especially when running a 2.5" or smaller exhaust. Generally it isn't worth the extra trouble for the performance gain but it is the most common exhaust flange so availability is good compared to the others.
Turbine size: (A/R-ish)
The most common turbine sizes for the TD04HL turbine houses that fit our manifolds are 6cm2 and 7cm2. The size of the turbine can be readen from the serial number that's on the turbine itself or from the shape the turbine has.
- The 6cm2 turbine has got a smaller outer radius and is a bit square-ish on the outside. I would use this one for up to about ~260HP crank or until the EGT's start to approach 900*C. This will be a nice fit for a small or medium sized compressor and will give a quick spool.
- The 7cm2 turbine has got a bigger outer radius and is more rounded on the outside. This one obviously flows better than the 6cm2 housing and is a nice match for the large compressors. It spools a bit slower than the 6cm2 housing but flows better up top.
The turbine size is
NOT
dependent on the opening size of the turbine input flange that meets with the exhaust manifold. Let's scroll into the next section to give some clarity about that subject.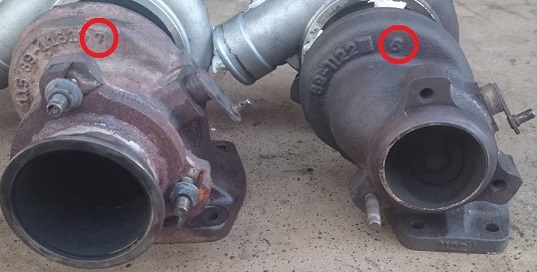 Turbine input flange:
Now comes a, in my opinion, somewhat overlooked part of choosing the right turbo. Exhaust gas velocity and a smooth transition from the collector to the turbine is key for maximum responsiveness. There are at least two different turbine input flange types for the Volvo TD04HL turbo's:

- When using a 90+ manifold, you want to have the input flange with the smaller opening. This opening fits nicely to the opening of the manifold. Porting of either the turbine or manifold is not adviced since this will unneccessarily reduce the exhaust gas flow velocity without any gain on a TD04. The stock exhaust collector has got a free flowing port with a surface area of about 15cm2. The largest turbine area is 7cm2, which is restricted in flow as well by the turbine. The wastegate port generally has a free flow opening of around 3cm2. Well, you see where this is going... More than 15cm2 is just not needed to feed the TD04HL and will just kill the gas velocity by creating an expansion chamber thus reducing responsiveness.
- When using an old-style manifold, you want to have the input flange with the large opening since the "collector" opening is quite large.

With a bit of experience:
I know this is old thread.. but. Ported manifold gain is slower spool.
What makes real difference was post turbo. Note - that is on 2.0 liter engine.
I tried 19t with 7cm2 conical housing (cast nr. 89-11800 7) - awful response and awful overall.
Then it was full 3" exhaust with heavily ported both manifold and 7cm2 flat flange housing (115 89 11810 7) - a lot better, but still slow response. Full boost hit at ~3200 and boost rise was kinda slow.
Then it was unported manifold and unported 7cm2 (115 89 11810 7) flat flange housing - full boost at 2800, hit much harder, boost rise faster, felt even better.
Finally I settled with unported manifold and 6cm2 (115 89 11710 6) flat flange housing - the car is a blast, response is as with stock 13c if not better.

Test was made with A and T cams. I finally stick with T cam. A cam wakes above 3k RPM, but
low down feels anemic. Again, this is daily driver and I don't care much about high top end, altough the car makes good 220 whp. With T cam and unported manifold and small 6cm flat flange housing I have a nice torque curve all over the place.
This is my take on understanding all the turbo talk, i hope this helps with finding the right turbo setup.
Last edited: